ABOUT LEGENDARY FINISHES and LEGENDARY PAINTING
Mat Driear began his profession as a painting contractor in the Flathead Valley
in 1997. As the Valley has grown, so has his expertise and in 2007, he and his wife, Lesile, expanded their painting business with Legendary Finishes to provide pre-finishing services for their customers. In 2010 they expanded to the Helena area and joined forces with Jason Driear a long time painter of the area. Their 8,000 square foot facility allows Legendary Finishes the ability to provide customers with off-site pre-finishing for doors, windows, trim, moldings, siding, and fascia. All finishing is done in a dry, clean and secure environment, then delivered on-site ready for installation.
On every finish and painting project, our team of professional craftsmen is committed to quality. Our pre-finish services provide the control, convenience and competitive pricing that on-site finishing can't match.
Customer Satisfaction is Paramount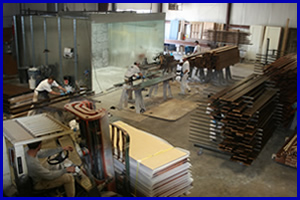 At both Legendary Finishes and Legendary Painting, customer satisfaction is paramount. And to that end, we are continually educating and training ourselves on new products and techniques. When bidding on a paint job we evaluate the circumstances that might put stress on the life of the paint, such as exterior siding exposed to harsh elements, or water, and help you choose the best product for the situation. And, in the rare event that there is a problem with any project we stand behind our paint job and will make any necessary repairs.
Whether you choose our high quality painting or finishing services you can be assured of:
Commitment to Quality
Our commitment to quality can be seen in every job we do, from the smallest office to the largest church or apartment complex, we have the skill and expertise to finish the project in a professional manner.
Professional Workforce
At Legendary Finishes you can expect our workforce on your jobsite to be respectful and courteous and be attentive to details. We pride ourselves on adhering to strict OSHA safety standards both for our staff and for the building under construction.
Competitive Pricing
We use top quality, long lasting paint and we always strive to keep our costs down so we can pass the savings on to our customers. Through good jobsite management and volume discounts on products we are able to provide excellent value within a budget.
#1 Goal: Customer Satisfaction
We believe that our customers are number one and we don't leave a job until the customer is completely satisfied. Legendary Finishes is the only company in Flathead/Helena areas that offers an 8-year product and labor warranty on exterior painting jobs!
Technique and Product Knowledge
In order to provide you with the best value for your dollar we continually educate ourselves on new products and techniques. We work directly with paint manufacturers to ensure we have the most up to date information on products and technology.