Residential new construction and repaint painting services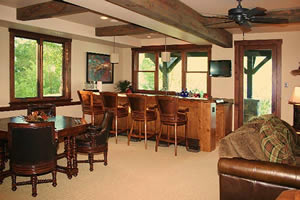 Repainting of residential properties is an important part of our business. We specialize in both interior and exterior paint jobs and offer expert Green Painting services as well. Plus we are one of the few companies in the Flathead Valley who provide "green" pre-finishing services.  Our New Construction Painting team will walk you through every detail involved in the painting process and even provide you a list of materials used along with touch up products.
Creating a home that reflects your lifestyle is important and our Residential Painting services can help you achieve your personal decorating goals. Our color-matching machinery can customize color swatches to near perfection and our skilled painting crew pays close attention to detail while keeping your painting job as non-intrusive as possible.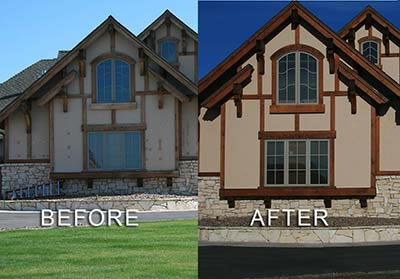 Repainting your residence is important because it:
Maintains the integrity of the home exterior. It is more than just 'prettying up' the homes image. It protects the surface from harsh weather elements and repels moisture.
Inhibits the growth of mold
Protects from harmful UV rays. When siding and trim get dirty it prevents the paint from reflecting the UV rays, moisture and heat. This effect can be drastically increased when there is snow on the ground, as it acts like a mirror reflecting UV rays back onto the house.
GREEN PAINTING [top]
(Services upon request)
Reducing harmful paint fumes and volatile chemicals is the latest innovation in the painting industry. We utilize the most recent techniques in non-polluting paint technology that will still provide you with a durable, dependable paint job. At our pre-finish facility we can also apply these Green Paint materials for a variety of finishes.
We also offer Green Stain, a water-based product that contains no solvents or harmful fumes and is easy to clean up. And we always recycle our solvents and reuse them.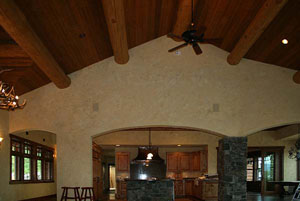 When we paint the interior of your residence we will protect your furnishings, wood floors and carpet then we will sand, caulk, fill, and prime surfaces as needed and clean all woodwork to be painted so the paint adheres properly and looks better.
Typically, painting the interior walls and ceiling of a building is done with water-based latex paint. Generally two coats are required when drastically changing colors, but on previously painted surfaces, one coat of a similar or same color will usually suffice as long as full coverage is obtained.
Legendary Painting generally uses brushes and rollers for walls and ceilings when spraying is not an option. Typically spraying and backrolling would only be done in a remodel situation, or when carpeting and furniture has been removed.
There are specialty primers and paints available for custom looks to help create a touch of personal elegance to your home or business.
We Specialize in:
Enameling
Staining
Cabinet Finishing
Antiquing
Faux Finishes
Custom Door Finishes
Moldings
Walls, Ceilings, and Floors
Creating a polished, professional look for your homes exterior is critical to maintaining its value and can be an important factor when selling it. Legendary Painting can help you create the right 'curb appeal' that will instill confidence in your prospective buyers. And it gives you the satisfaction of living in a stylish home.
There are many quality exterior paints and stains on the market and we always use top quality products. We generally recommend a high quality 100% acrylic paint for previously painted surfaces when an opaque color is desired on a smooth, non-absorbent surface. Oil base paint has some limited uses, but is rarely recommended on a large scale.
Such surfaces might include cement board siding, wood siding (smooth side out), vinyl siding, steel siding, windows and doors.
Solid stain is recommended for rough siding and unvarnished wood surfaces. 

House painting and staining
Pressure Washing
Deck Finishing
Exterior Varnishing
Metal Finishes
Elastomeric Coatings
Chinking
NEW CONSTRUCTION PAINTING [top]
First impressions of a new home are important. Although there are many key elements involved in making sure that a new home is everything the homeowner wants and dreams of, it must be stated that the paint job is one of the most critical features! Painting can bring warmth to cold rooms and artistic expression to an ordinary piece of wood.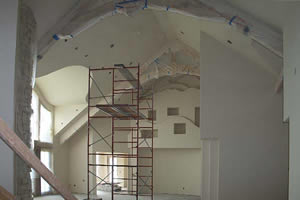 When a homeowner takes possession of their residence the first thing they notice is the paint and finishes applied to surfaces both inside and outside the house. Having confidence that your painter will 'stay the course' and get the job completed to your satisfaction is important. Our courteous, trained staff will walk you through every detail of the painting process and when the job is complete, will provide you with a list of the painting materials used along with a comprehensive guide to maintenance of these products. We also leave behind touch-up materials for those little bumps to the walls on moving day!
People's hopes and dreams should not be taken lightly. That's why we don't leave a jobsite until they are completely satisfied.
Our New Construction Painting services include:
Walls, ceilings, floors
Moldings
Faux Finishes
Enameling
Staining
Cabinet Finishing
Antiquing
Custom Door Finishes
Concrete and rock sealing
Chinking