MONTANA COMMERCIAL PAINTING CONTRACTOR SERVICES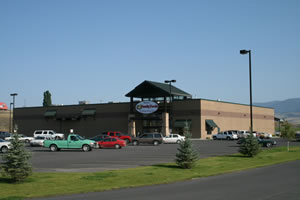 Keeping your business looking sharp and fresh is important in this competitive economy. Legendary Painting can help you maintain a professional look that appeals to your customers, from first impression exteriors to attractive interiors.
Commercial painting projects require organization and attention to detail to keep your job on schedule and within budget. Legendary Painting is fully licensed and bonded. We are members of the Flathead Building Association and are accredited members of the Better Business Bureau.
We service: [top]
Commercial Builders
Property Management Companies
Apartment Communities
Condominiums
Real Estate Developers
Custom Cabinet Shops
Remodeling Contractors
Enameling
Staining
Cabinet Finishing
Antiquing
Faux Finishes
Custom Door Finishes
Moldings
Walls, Ceilings and Floors

Creating a polished, professional look for the exterior of your business is an important selling tool. Legendary Painting can help you create the right 'curb appeal' that will instill confidence in your customers.
We offer Exterior painting on: [top]
Commercial buildings and outbuildings
Chinking
Concrete and rock sealants
Pressure Washing
Deck Finishing
Exterior Varnishing
Metal Finishes
Elastomeric Coatings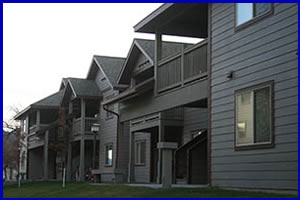 There are many quality exterior paints on the market. We generally recommend a high quality 100% acrylic paint for previously painted surfaces when an opaque color is desired on a smooth, non-absorbent surface. Oil base paint has some limited uses, but is rarely recommended on a large scale.
Such surfaces might include cement board siding, wood siding (smooth side out), vinyl siding, steel siding, windows and doors.
Solid stain or semi-transparent stain is recommended for rough siding and unvarnished wood surfaces.