LEGENDARY PRE FINISHING SERVICES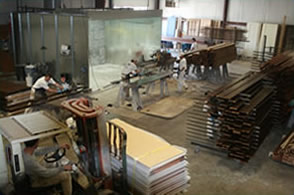 Legendary Finishes pre-finish operation is housed in a clean, particle-free 8,000 square foot facility equipped with state-of-the-art spray equipment that allows us to give your material a "hand-done" look. With machine control, the paint is layered evenly on the surface, giving it a bulletproof, longer life finish while reducing time and labor costs. It is easy for customers to have garage doors, front doors, passage doors, cabinets and millwork delivered to our shop for finishing prior to installation.
Pre-finishing is recommended when customers have a limited space to work in or when spray fumes cannot be tolerated.  It is also convenient for customers who wish to do all the painting themselves but don't have the knowledge, tools or workspace to stain and finish all the doors, trim and windows. 
At our pre-finish facility we specialize in custom finishes on projects from as small a single door or as large as 50,000 feet of trim. Plus, we can ship your project components nationwide.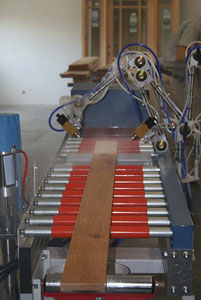 Pre-finishing is an excellent solution for:  [top]
Doors
Interior molding
Exterior trim
Siding--both wood and "hardi plank" cement board
Fascia
Windows
NEW CONSTRUCTION Pre-finishing [top]
For new construction pre-finishing is often the quickest and most cost effective answer.  For all new home or condominium construction, office or commercial buildings pre-finishing offers these benefits: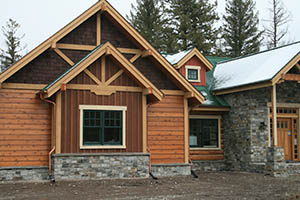 Significantly save on labor costs:  less time = less cost
Materials are finished in a clean, safe environment without fluctuations in air temperature or wind blown particles to mar the paint surface.
Pre-finishing allows us to utilize coatings that are more durable than conventional finishing/painting allows and are more scratch and mar resistant.
Consistent even finishes every time!
On-time delivery directly to your job site at no additional cost to you.

CUSTOM FINISHING SERVICES [top]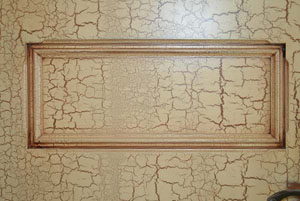 Getting the look you want is important and Legendary Finishes is dedicated to helping you achieve that goal. Our in-house custom color matching equipment gives us the ability to personalize any paint job. We will gladly match paint or stain colors per our customer's requirements.
Our specialty at Legendary Finishes is to create custom finishes to match our customer's decorating style and taste in all architectural styles from antique to ultra modern. Our expert finishing can turn new trim, doors or windows into antique or an artfully distressed style. And our specialty glazes can create a story in the woodwork evoking warmth and charm in your home or commercial space.
Our specialty Faux Paint and techniques can personalize your home and since no two faux finishes are alike, it truly adds a custom touch to your living space.